Camtasia decided to make my life miserable. I can't render any of my videos for the life of me and I don't know what to do. It simply stops working in the middle of the rendering and I tried all the fixes I found in here. Following one of the posts I started checking the RAM usage of Camtasia and whenever it gets to 2.5GB it crashes. (The post explained that it happens because the software is 32 bits)
Now, my PC is a core i7, 16GB RAM and Nvidia 750gtx 2GB ram and windows 10 64x. I'm pretty sure I can handle the rendering, specially having already finished some other projects. I even tried to render the videos individually, but it still crashes.
The videos were recorded by camtasia and are in .trec extension, there are images in .PNG and MP3 BGMs. It's a speed paint video. I tried to render them to mp4 1080p/720p and WMV. It crashed everytime.
What should I do? How can I make it run as a 64x software so I can have my 4GB RAM range? Also, what can I do to reduce the RAM usage, because there are times when the rendering uses 2GB right at the beginning!?
Thanks in advance.
Hi Demi,

I can certainly commiserate with you. I had days of frustration with Camtasia with this until someone suggested that I batch upload and render my videos that way.

you'll find it works much better...

Go to "Tools" > "Sharing" > "Batch Production" and upload your video as a batch and you'll find that it fixes the problem.

Kind Regards

Rik
Hi Rik,

thanks for replying to me... Sadly it crashed too, not sure I did something wrong in there. I followed one of the posts saying to open a new project and use the batch production o render it. Even doing that it crashed. Should I do something different there, like making more files and use the batch?
Sadly, I'm pretty green when it comes to this too Demi. Try closing down your computer and restarting it and be sure to also close all your applications and files other than Camtasia.
Hi Kayakman! Good morning and thank you for your reply!
I'll try these and let you know how it goes, however I have questions;

How do I know a project is too complex?
Is it based on the amount of files combined?

Also, this is not my first speed paint, but it's the first one to not render at all. Camtasia is even crashing when I try to convert the .trec videos individually to mp4.

With this amount of crash complaints, shouldn't we have a fix by now?
And np, Rik! Thanks for replying! <3
Hi there!

While @kayakman has some really great ideas (thanks kayakman!) I'd like to know a little more about your project; in your opening thread you specifically call out MP3 files. I'd like to know about those specifically; are they constant-bitrate MP3 files? Would you happen to know what their sample rates are? Also, are they licensed recordings (i.e. copyright-protected, or fall under HDCP standards)? As for the PNG files; what resolution are the images? It is entirely possible for the resources to spike like that if your PNGs are greater-than 1920x1080; combine large PNG files with MP3 files and this behavior is very possible.

As an aside, we recommend using WAV files at 16-bit, 44.1 kHz as that is what Camtasia is set to record/work with.
Hi Robert! Thank you for the input!

As for BGM: there are 6 mp3 files, winamp sais they are 320 kbs and 44 khz.
PNG files: Yeah, they are bigger than that, I can reduce their sizes.

But I would like to point out 2 things:

1- My other projects had the same file types and never crashed like this. Before adding any music files to Camtasia I export them on Audacity to make sure they have the LAME codec. They're also not locked by any reason.

2- I'm really glad for all the suggestions and I will try them all, but what's been bothering me is that even when I try to render one of my screen recordings, just a simple .trec, no additional objects there, it still crashes! I tried to convert the .trec files hoping it was a file size problem, but it's not...
First we wanted to thank you for your patience while we worked to address this issue.
We are pleased to announce that that we have just released our newest and most powerful version of Camtasia.  This version is fully 64-bit, and should address issues like the ones expressed in this thread.
You can buy Camtasia (see:
http://bit.ly/1L17R9t
) or download the trial (see:
http://bit.ly/1tx3fNn
).  The version 9.0 trial can be installed side-by-side version 8.x, so you can try before you buy.
Please feel free to post your feedback and feature requests here in our Community forums and remember, all technical support-related inquiries should be directed to our dedicated Technical Support team at
https://support.techsmith.com/
I also have this kind of problem but everytime i try to render it it just stops without a message, it doesnt crash but i cant render it pc specs: quad core i5 2.9 ghz gtx 960 and 8 gb of ram which should be enough i suppose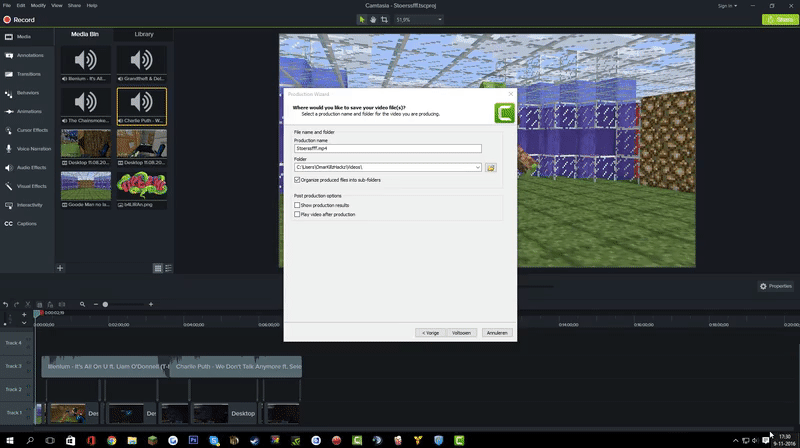 Hi Demi,

I've had this happen to me a couple of times when using Camtasia 8 or 9. If this happens, be sure to use the latest version of Camtasia. Be sure that you have a current license of Camtasia. Look for the latest upgrades and install it. This usually addresses the issue on most Windows laptops.

If the problem persists, submit a ticket for tech support to TechSmith. I hope this helps.
Related Categories
11479 Conversations
4759 Followers